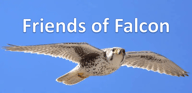 Friends of Falcon is a 501(c)(3) non-profit organization. We are a group of community minded volunteers working to promote the Falcon area and help preserve its character and identity as a harmonious balance of rural and urban lifestyles that exemplifies southern Colorado living.
NEWS! UPDATE: The County Planning Commission (PC) sided with residents and voted 5-2 to recommend DENIAL of the Falcon Highlands South PDUSP application (see Proposed Developments tab). It next goes to the Board of County Commissioners on Dec 14 for a decision. The PC vote is proof that citizen input matters. Be sure to speak up on issues affecting you!
Friends of Falcon is proud to partner with the Eastern Plains Chamber of Commerce in promoting the Falcon area and attracting needed businesses and services. Be sure to visit their website at https://www.easternplainschamber.com !
We are also proud to partner with The New Falcon Herald to publish articles and promote the area. Be sure to visit them at: https://newfalconherald.com